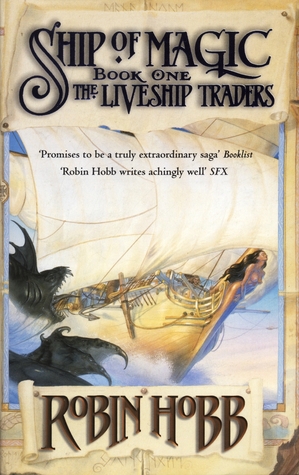 I love Robin Hobbs. I read in Kindle format the Assassins Apprentice series and the Fools Errand series. At the time I did not realize that the Liveship Traders was supposed to be read prior to the Fools Errand series.
This book introduces you to Bingtown and to various trader families, their servants,the political climate of Bingtown, pirates, slaves, and social class issues and Jamailia cities influence that is forcing the town to change. Robin Hobbs is intricate in her detail to the story so there are many surprises. It sets up quite a story and you will not be disappointed.
I noticed there is some critique on one of the main characters, Althea Vestrid, and how she is not very likable. I would disagree. She grows on you. I understand the frustration as we meet her as a willful and somewhat self-absorbed teenager. Stick with it; she grows up. All Hobbs characters are flawed. It's part of what makes them realistic.
The magic system is believable. If you read the Assassins Apprentice series, it provides another layer with the liveships and the rainwilds. You could read this series as a stand alone but it will be more enjoyable if you read the series mentioned above first.
Anne Flosnick does a beautiful job narrating. I sometimes have a hard time with the narrators of some fantasy and have to give up and read it rather than listen, but I believe Anne Flosnick added to the deliciousness of the book rather than detracted from it.