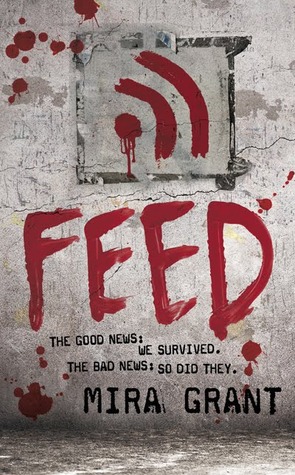 Feed has been on my list to read for a while now.  It was recommended to me after I read 'World War Z' and found I like zombie fiction. I have to say I have no idea why I waited so long.  This is a delicious book!  -That might be the wrong word for a book about zombies feeding on human flesh.  For anyone who might be thinking it, no, I have not been bitten by any human like creatures or mammals over forty pounds.
'Feed' is about a brother and sister, Georgia and Shawn Mason, who are just barely adults.  They are bloggers in 2040.  They learned this skill set from an opportunistic couple who adopted them as orphans from the zombie war of 2014.  They did this partially to replace their own son they lost, and partially for publicity and ratings.  The most affection they received was in public and from the extremely tight bond they developed with one another.  The Mason siblings grew up in a world that lives with zombies.  Zombies were not completely decimated after the break out because everyone carries the Kellis-Amberlee virus.   Everyone who does die, short of a bullet to the brain, will turn into a zombie.  At any moment an outbreak can occur and people live with that fear everyday.  So, people live very sterile lives inside.  Only the brave go out to grocery shop, go on a date, or drive anywhere.   Bloggers fall in three categories: Newsies, Irwin's, and Fictional's. Irwin's go outside and partake in pre-rising behavior antagonizing the occasional zombie in the process, allowing society to live vicariously while sitting on their couch.  Bloggers and news reporters are a brave breed in a society tightly controlled by fear of the zombie virus.
A nice twist is that our blogging team, Shawn, Georgia, and Buffy, get chosen to follow a senator's campaign for the presidency.  All sorts of sabotage, hidden agenda's, and zombie outbreaks make for an exciting read.  I was hard pressed to set 'Feed' down and force myself to take care of  terribly annoying, necessary things in my life such as work and eating. Ugh…
This is an enjoyable read, but it is also well written with developed characters you attach to.  If you like audio books, there is a good narration by Paula Christensen and Jesse Bernstein. This is not the goriest of zombie novels.  It is more plot and character driven, but as I have said before, what is a zombie novel without some human flesh being eaten?  The exciting news, if you haven't read this already, is that its a trilogy.  There is a pretty big twist at the end and I refuse to give you the spoilers. Instead I am going to order you to pick this up and read it if you have any interest in zombies, good dystopian fiction, and political intrigue.  I know I am assuming a lot by believing I can order you to do anything, but I'm doing it anyway.  Happy reading to you.