This is a late edition but necessary.  I have several books that must be reviewed during June and my followers would be treated poorly if I didn't give you some idea about what you are in for.  In for a penny, in for a pound my friends….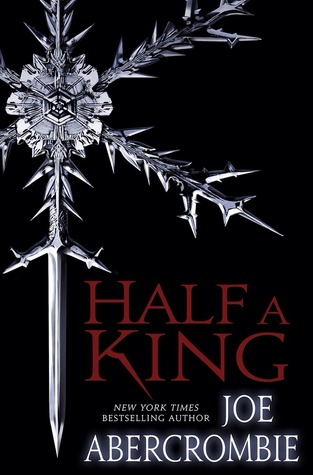 'Half a King' by Joe Abercrombie – Random House Publishing – Del Rey Spectra
WHY AM I INTERESTED?
I haven't read anything by Joe Abercrombie yet.  I, however, have heard wonderful things about his writing style and his books.  This is a coming of age tale for a young deformed King in a hard country that is frequently at war.   It has my interest piqued.  Not only is this a young king but one whose father and brother are murdered.  It is up to Yarvi to determine who the perpetrators are and to avenge his family.  He has sworn an oath.  Oaths are not taken lightly.  I am a fan of the coming of age tale.  I'm hoping for greatness Mr. Abercrombie!
'The Nightingale Girls' by Donna Douglas – Random House UK – North America
WHY AM I INTERESTED?
'The Nightingale Girls' is currently published in England and is coming to the United States.  It is described to be a book that will not disappoint viewers that loved 'Call the Midwife.'  It is the story of several nurse trainees as they go through their schooling at the prestigious Nightingale Hospital in London.  This is the first of a series and is Donna Douglas's debut into historical fiction.  It is set in the 1930's prior to the World War II and is brimming with the economic and cultural changes of the time.  I'm ready to get a very large cup of tea and snuggle up with dogs as I devour this.
'Deadline' by Mira Grant – Orbit
WHY AM I INTERESTED?
If you've read 'Feed,' and I highly recommend that you do, you will not be able to stop at book one.  It drags you in.  This is the story of Shaun Mason and the 'After the End Times' blog.  To avoid spoilers for the uninitiated I will say it is a story of zombies, bloggers, political intrigue, and global conspiracies.  Primarily set in the United States, we follow this team of journalists after an already devastating blow to the US and their team.  If you like your zombie books with a more developed plot than only running and brain eating, I suggest you give the 'Newsflesh series' a try.  I loved the first book and hope to not be disappointed by the 2nd installment, 'Deadline.'
'A Letter of Mary' by Laurie King – Harper Collins
WHY AM I INTERESTED?
Laurie King has written a beautiful and intelligent series for Sherlock Holmes fans.  In her books she explores the relationship between Sherlock Holmes and a woman by the name of Mary Russell who he trains in the deductive arts.  Unlike Watson, she is Holmes match.  She is a keen mind and I waited a long time to pick up this series because I'm diligent Doyle fan.  I was worried it would not live up to my expectations but King is clever and explains and is able to develop and strong spin-off of the original.  This is the third book in a long series and brings Holmes and Russell in contact with an ancient letter that appears to be written by Mary Magdalene.  The owner bestowed it on Mary prior to her own suspicious death.  I have high expectations and am excited for this book.