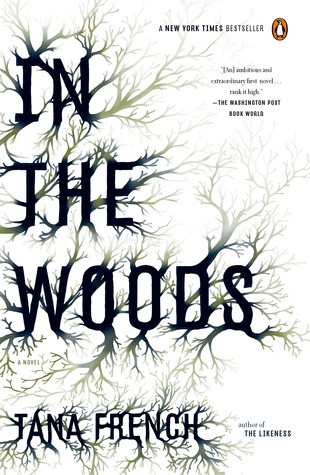 'In The Woods' is the first book in the Dublin Murder Squad series by Tana French, but it is the third book in that series I have read by her.  French makes this series readable whether you start at book 1 or book 4, and I love the fact you do not have to read them in order.  That being said, this is clearly the first of the series.  This book centers around Rob Ryan, Murder Squad detective.  It also introduces us to Cassie Maddox, his partner, the central figure in Book 2 'The Likeness."  Ryan is a flawed character that strays from approved policy, as are all French's characters.  He allows himself to be assigned to a case that he is tightly connected with.  While against procedure, and full understanding that it could destroy the investigation and his career, he jumps in and does not disclose his personal ties.  He believes himself to be the perfect man for the job.  French creates an intriguing mystery.  I didn't guess the ending despite the fact that all the clues are there.
Rob Ryan was the victim as a child in the disappearance of two children.  They were his two best friends.  He is the only one who returns home to his parents, his shoes soaked in blood.  His parents hastily move, change his name, and put him in boarding school.  They are doing all they can to protect him.  He can not remember the incident, even as an adult, but now that a child is found murdered in his home town he gets himself assigned to the case.  It has been many years, but as he investigates the murder of a young girl he can't help but investigate any similarities to that of his childhood friends disappearance.  Is this girl one of them?  Is it related?  French digs relentlessly into a small town that sits in the ruins of an archaeological site, an archaeological site that is about to be shut down for the sake of a new road and the never-ending drive for "progress."  As Ryan and Cassie investigate the case, Ryan is having flashbacks.  These flashbacks take him down an interesting rabbit hole that was his life before his best friends disappeared.  Ryan also starts to unravel.  He has difficulty distinguishing what is real and fact.  His behavior and memories jeopardize the entire investigation.
A friend of mine told me that the reason she liked French so much is she doesn't answer all your questions and in the hands of a less capable writer this could be a plot hole.  In French's hands, however, it is an excellent device that leaves you wanting more.  How right she is, and French certainly does this in 'In the Woods.'  French leaves you with key questions unanswered, but if you look at any true crime there are many questions unanswered that leave you on the edge of your seat.  French plays to reality with this.  The book is a psychological thriller not just murder mystery.  The motive behind the crimes are intriguing.  It also delves into how your mind can be manipulated and tricks can be played on it.
I mentioned that it is clear this is the first of the Dublin Murder Squad series.  It is not because it gives you key information to the rest of the books but rather shows how French develops her series formula.   I describe it as a formula because the Dublin Murder Squad books have a sole carry over character in the next installment of the series.  This carry over is the main character of the next book.  There is some light reflection of the previous book, but that is it.  Each book is attached to the Dublin Murder Squad, and it is about a singular flawed character at a point when they are at a significant low point in their lives that causes them to question and challenge the rules.  They are never a key character again.  I find it brilliant, and French is free from having to rehash characters repeatedly.  She has fresh characters each time.
I enjoyed 'In The Woods," but didn't find it as well written as her other books.  It's not one I would reread but loved the concept, especially how French wrapped up the book.  I think if you want to try out French, because you have not read her yet, I recommend being a little nontraditional and start with a different book than 'In The Woods.'  That way you can enjoy this one later, but you get French's writing at a higher level to start off with.