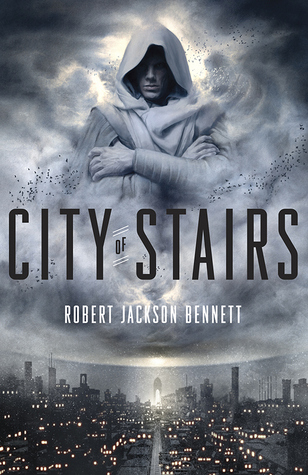 (Publish date September 9, 2014)
'City of Stairs' has had very good reviews.  I was excited to receive it. Frankly, during the first quarter of the book I didn't see why there was so much excitement.  It was good, but I wasn't seeing the extraordinary.  That changed.  I'm telling you that if you choose to read this you will not be disappointed.  The first half is enjoyable but the second half is what makes it special.  This is my first Bennett novel.  If they are all like this he is an author to be reckoned with.  The character development is fabulous but it's the plot complexity and detail that makes this so intriguing especially because the development is subtle.
A famed Saypuri historian dies under suspicious circumstances in the primitive Bukilov. Over seventy-five years ago a terrible war was waged between the Saypuri and Bukilov.  The Saypuri used to be slaves to Bukilov.  They were  godless  while the Bukilov people were blessed with miracles and six Gods.  The war was one where the oppressed overthrew Bukilov and killed their gods.  Bukilov has chosen to remain in squalor and disease. The Saypuri goal is to guide them until they can care for themselves, but despite their efforts Bukilov only wants to be restored and maintain tradition despite their not having access to study their own histories.  This is why the famed  historian was such a threat, a Saypuri who could study Bukilov history was an insult when its own people legally could not.
Shara Komayd, descendant of the Kaj, God conqueror himself, arrives.  She is there to investigate the murder.  No one knows who she is, she's been on the continent for 16 years as an intelligence operative investigating and "dealing with" the miracles that are outlawed.  Sigrud is her companion and brute force operative, but he is known as her Secretary.  He characteristics similar to a Norseman, he is a large man accustomed to sailing.  Shara found him in a prison. They are devoted to one another, as those who have worked together for years, only can be.
The world building is unique despite clear correlations to groups of people in our own world.  Despite that the creation of miracles and gods are not traditional.  It's fascinating to watch broken miracles and how they interact with the people in Bukilov.  The City of Stairs is full of mysteries both hidden and obvious.
'City of Stairs' delves into the creation of God's, religion, and the relation to its followers.  In this book Shara must discover if the gods are truly dead, and are all the miracles gone? Their creation seems possible in Bukilov.  Much is happening.  Shara and her companions must look past the surface to save Bukilov, Saypuri, and avoid a magnitude off bloodshed.
I developed a strong attachment for Bennett's characters, especially Sigrud, he is a tremendous character of depth.  The key to the book is the second half.  We may want a quick payoff, but the background in the beginning is necessary.  Don't assume that the entire book is like the beginning or you may decide that the book had too much hype.  Please don't misunderstand me, however, the first half is good it's just the second half is truly amazing. I don't want to give any spoilers, so, I'm telling you that you must read this.  It is intelligent and insightful .  It is worth every minute of your time.
I received this book from Netgalley and Crown Publishing  in return for an honest review.