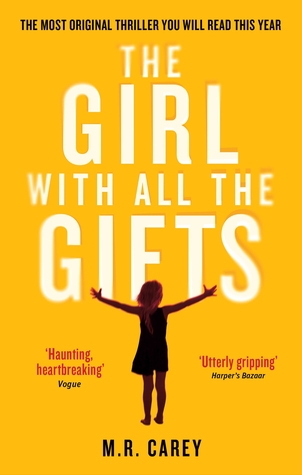 I enjoyed this.  It was recommended to me during my hunt for Halloween Books.  I am glad I read it.  This is a new slant on zombie fiction.  There has been some hype surrounding it.  You may have had some spoilers already,  but I am going to try and keep this as spoiler free as I can.
'The Girl With All The Gifts' is centered on an army base in England surrounded by "Hungry's."  Hungry's are what the zombies are called.  While the plague is not over, communities have been created, protected,and cordoned off from danger. Once they were stabilized the government sent out radio information telling survivors to return to civilization.  Some chose to stay in the wild; unable or unwilling to return after becoming survivalists.  These non-conformists that live where the Hungry's still roam are called Junkers.  They can be as dangerous as any Hungry.  All communities, including the Army base, must scavenge for canned goods and other necessities the Junkers are in direct competition for.
The function of the army base is to perform research for a cure to the zombie disease.  The mission has been ongoing for three to four years with no real progress.  The mood is frustrated and the people in charge are taking more and more risks in trying to find progress.  This is background to the story of the children on the army base.  They are orphans of the zombie plague.  Melanie is one of these children and the main character of the story.  It is through her eyes we experience the world, learn about the teachers, the living conditions, and the research.  There is a great deal of resentment towards the children from the adults on the base – especially the military personnel.  One day the junkers attack and only a few people survive.  It is at this time the story develops quickly and Melanie, along with the reading audience, learn many truths that had been hidden from the children about the world and their place in it.
This is new take on Zombie's or Hungry's.  I find it an interesting trend that books never refer to Zombies as Zombies any more.  They are walkers, biters, hungry's etc.  It certainly gives each new book/TVshow/story/comic book its own flavor but I can't help but find it strange that when the living dead visit no one says, "Hey! That's a zombie."  It would be the first word out of my mouth.  I almost thought it was copyrighted, but if that were true all the zombie apocalyspe material  wouldn't be floating around.  It must just be an author's perogative.
This does not truly qualify as a Halloween book for me because it does not take place during Halloween.  Actually, the time of year is never defined.  It might qualify by default.  Carey does include zombies, however, and it is frightening.  It is not the scariest book, but I wouldn't read this around small children.  Teenagers could read it understanding there is some violence and profanity.  It is a smart and compelling book.  The ideas in it are good enough that it would be a shame for them to miss it.  It also is not centered around a romance.  While I don't mind a little romance sprinkled in my science fiction and fantasy it's nice to have a book without it.  I like the idea of young adults reading a book where there is more to the world than being defined by your significant other irrespective of whether you are a boy or a girl.
I encourage you to pick this up.  This has some violence but it won't test your gag reflex.  If you are looking for gore and an inability to sleep this won't do it.  Keep searching.  This will give you a few chills, some surprises, and make you think. If you like audible books Finty Williams does a fabulous narration.  I highly recommend both the book and the audible version.