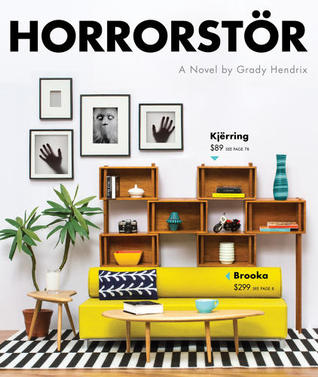 There is something delightful about this book.  Have you ever worked for a Big Box retail store?  I have, and I have to say that Grady Hendrix captured the experience very well.  You can tell he spent some quality time at one during his life.  The corporate jargon and internal branding used in this book could come straight out of an employee handbook or explicit policy and procedure book.  The parody made my lips curl up in a snarky smile and laugh.  There is a policy and procedure for everything in these well researched stores.  There is purpose to every placement, the layout is planned disorientation, and it will make you purchase more.  What happens when that same store that is built to disorient you is taken over by unearthly ghostlike apparitions intent on destruction?  Nothing good.
Amy is twenty-four and is talked into working an overnight shift by her boring Floor Manager Basil.  She and another associate will be helping Basil prep for a corporate visit in the morning.  She agrees so that he will approve her transfer to Youngstown away from him and his store.  It's only a matter of time before she is fired if she stays under Basil's management and she can't afford to be fired.  She's in debt.  Her roommates are waiting for her rent money, and the college she dropped out of is collecting on the loans she took out.  If she gets fired she has to move back into her mother's trailer.  She hates Orsk, the knock off IKEA retailer she works for, but she doesn't have a lot of options.  Her dream of a cushy sit down job seem so far away, especially since she failed the supposed "idiot proof" management test, and because Basil seems to have it out for her.
During this night shift strange things happen.  Associates have been reporting strangely bad smells in the store, and odd text messages saying "Help!"  The corporate help desk and management can't find the source and has offered no resolution.  Things get out of hand quickly as Amy, Basil and Ruth Ann work overnight.  The lights go out when they aren't supposed too.  They get lost in a store they work in all the time, and they find two other co-workers who have decided to camp out in the store.  Matt and Trinity decided that with all the strange things happening that the store was going to be the first episode of their ghost investigation show "Ghost Bomb."  You ask what "Ghost Bomb" is? Good question.  No one in the store knows.  They are undiscovered but this is going to land them that big break.  Matt and Trinity have camera's, lights, etc.  Trinity is a true believer and they have done their research on the store.  There used to be a prison on the ground where the Orsk Store was built and several inmates drowned in the prison with the warden and guards.  Previous to it being a prison it was a swamp.  They are sure that the smells and texts are coming at them from another dimension.  When they find a homeless guy hiding in the store Trinity's hope of her first ghost sighting is dashed.   Never fear a seance brings the horror upon them!
This is fun.  I enjoyed it.  I will say part of my love for it comes from my experience in the past working for big box retail.  The love that process, process within processes, and processes within those processes is so well expressed.  It's funny and delightful and left me wanting more.  I know I  will be looking for more by Grady Hendrix.  I encourage you to pick this if you have ever worked in retail, if you enjoy horror light, if you want to laugh, if you enjoy parody's, and if you have a pulse. It's not a classic but I  dare you not to enjoy it.