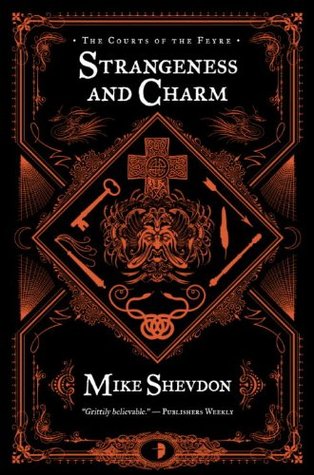 This is the third installment of Mike Shevdon's 'The Courts of Feyre' series.  I took a small break from this series.  After I finished the second book I couldn't wait to read it but when I picked it up it wasn't grabbing my attention.  I thought I may have overdosed on Shevdon's particular charm.  I did.  I acknowledge I can be fickle.  If I am over a genre or style I'm over it for a while. I will want to eat nothing but spaghetti for a month and then I won't want to eat it at all for six months.  It has nothing to do with the quality of the book or the spaghetti.  If I had forced myself to read this at the time it would have gone badly.  I would have ruined a book that I would normally love. Over time I have learned to recognize the warning signs. Luckily, I made the right choice and shelved it.  When I revisited 'Strangeness and Charm' I loved it. It picked up where 'The Road to Bedlam' left off.  Dogstar has a new baby, he's a warder, a distraught ex-wife, and more importantly his daughter back.  She is a mess, but she is a teenager that is dealing with trying to control her powers and her recent captivity.  Sure,  she was rescued by her dad, but it's not like she gets to go back to her normal life, see her mom, or go to school. She currently has to be protected but protection doesn't feel much different from a cell.  Dogstar is dealing with this along with getting to know his daughter as a young woman.  He can't win.  Caught between Blackbird, his partner's, wishes; Garvin, head of the Warders, wishes; and his daughter's needs he upsets everyone.
Dogstar, previously known as Rabbit, has had his own rocky relationship with the Courts of Feyre.  He doesn't fit being of Feyre and human descent.  The Feyre don't know what to do with their mongrel Feyre/human experiment.  They don't fit with the Feyre and they have ended up being test subjects for science with the humans.  They aren't particularly happy and why should they be?  This book is about determining where this group belongs.  Few get admitted to the Feyre courts and the only way Dogstar was saved was by becoming a warder.  They swear allegiance to all and to none.  These few exceptions aren't a standard and when Garvin asks Dogstar to hunt down the hybrids he doesn't know what to do.  As a warder his responsibility is to put them down for the safety of the Feyre and human contract but he doesn't agree with it.  How can he hunt down those people he just saved from the humans?  His daughter wades in to this disaster making Dogstar's position even harder.
I found Shevdon through Ben Aaronovitch's recommendations on Goodreads.  The Courts of the Feyre is a mature urban fantasy set in England.  When I say mature I am not speaking code for erotica.  This is not sexually explicit.  It deals with adult issues such as raising teenagers, and the complexity of having several people's needs pulling on you at the same time.  Some teenagers might enjoy it but it is not YA.  The series centers on Dogstar who is an adult man whose upper middle class, divorced, life gets hijacked during book one when his Feyre powers activated.  He was forced to abandon his old life but it didn't release from responsibilities to his ex-wife or his daughter.  It only made his relationship to them more complicated.
I recommend this series to anyone who likes mature urban fantasy, Feyre/fey/faerie, and strong world building.
If you like this you might also like:
Midnight Riot (The Rivers of London series) – Ben Aaronovitch
Of Blood and Honey (The Fey and the Fallen series) – Stina Leicht
The Rook (The Checquy Files) – Daniel O'Malley