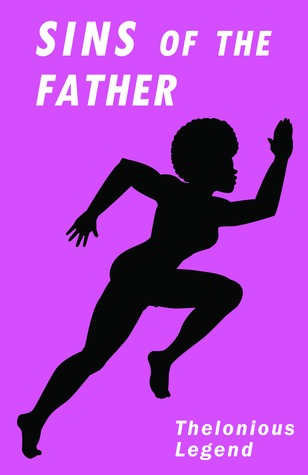 I hear 'Sins of the Father' and I think crime novel or mystery/thriller but not a badass middle grade novel about three teenage black girls with superpowers.  That said, as you read the book the title makes perfect sense.  It's fun and it had me laughing genuinely as an adult without kids.  I hesitate in calling it badass because Thelonious Legend was very age appropriate and had no profanity in the book, but I just can't find a more appropriate word.
The Parker sisters are affluent, intelligent, and athletic.  They are competitive and excel at what they put their mind to at their private school or in martial arts.  They are no strangers to success, but when their athletic capabilities improve drastically they start to question what is going on.  Gwen has become increasingly strong and Eve can move faster than lightning…ok, not quite that fast, but close.  While Ana's sisters are going through these physical changes her above normal intelligence has become genius level allowing her to amass a small fortune in off shore accounts from stock trading.  She also is able to comprehend biologically and chemically what is happening to them which is great since the one doctor they went to has no idea what is going on, and died mysteriously after meeting with them.  The race is on to find out what is happening to the Parker sisters for multiple reasons.  These girls want their lives back.  Their powers have made it so they can't compete for fear of hurting those they care about and because they can't expose their secret.  They don't want to be scientific guinea pigs but that isn't the worst thing that could happen.  They have a clock on them because there are negative physical effects that come with their superpowers.  As the powers increase so does the danger.
Legend's characters are likable.  They are not stereotypical and kids reading this book will be able to relate not only to the Parker sisters but to their parents, friends, and the rest of the supporting cast.  Another bonus is the characters are diverse.  Friendships cross cultures without it seeming contrived or forced.  Parents, while they are not main characters, play a more active role than several young adult books out there.  They are people who, while not perfect, are role models and appropriate supports to their children.  These girls are confident individuals and, like most teenagers, first try to solve their problems without the help of adults.  What teenager really thinks adults are capable to understand and help their situation?  They do seek support from their parents…eventually…partially.
The writing is good.  It is a middle grade book, however.  The set up is a bit different from an adult book.  The level of detail and introspection is lighter than adult fiction.  As mentioned above, it lacks profanity and sexual material.  There is a light teenage romance but it's not something concerning for a child of any age to read.  I believe there are two kisses total.  One kiss between the parents showing affection as natural/positive and one chaste kiss between the oldest Parker sister and a boy in her class.  What surprised me and was really enjoyable was the humor.  The Parker sisters are very funny with one another. There was a point I was reading lines aloud to my husband.  He wanted to know what kept making me laugh out loud.  It's definitely a middle grade book but I would recommend this to adults as well as kids.  If you enjoy superpowers and/or middle grade books I recommend you pick this up.  I dare you not to enjoy it!