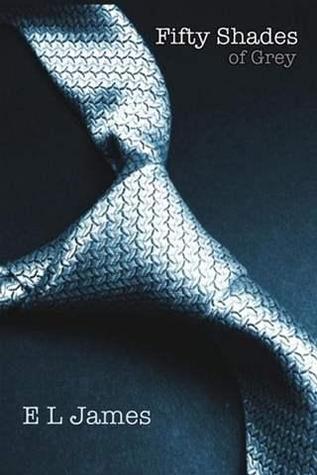 I did not plan to read 'Fifty Shades of Grey.' I heard the initial hype when the book first came out and even watched an interview with E L. James on 60 minutes.  I was intrigued as to why so many people were picking it up.  In the interview she discussed the books appeal.   The book is about, Anastasia Steele, an unworldly soon to be college graduate who interviews and enters into a relationship with a powerful businessman by the name of Christian Grey.   Grey wants Anastasia to engage in a dominant/submissive BDSM relationship. E. L. James started writing the book as a hobby because she found a desire for escape from responsibilities and decisions in her own life.  She is a working mother of children with varying interests that required ferrying them from one activity to the next.  With that and juggling her work, husband, and household duties she was overwhelmed.   James believes the appeal of the book comes from a common need to escape among women having to be super mom and the associated pressures.  The new fantasy is someone taking care of your needs – not having to worry about having to wash your clothes, having to cook, find and purchase the right car, make the payment, etc.  She didn't expect to publish the book let alone it's success.  Her lack of an expectation to publish explains the truly horrible writing.  As a result, I cut her a little slack on that.  At the time I decided it wasn't for me and dismissed it
With the movie coming out I saw and read a few of the critiques on the book.  Some stated the book condones and encourages domestic violence.  A good and balanced example is Love Hurts: What we learn from Beauty and the Beast, Twilight, and Fifty Shades of Grey  .  Others stated it was a misrepresentation of  BDSM relationships/community.  An interesting piece is A Submissive Reviews- Fifty Shades of Grey. Others railed against it being so poorly written.  Anything wildly successful receives backlash – some merited and some not.  I found myself getting angry.  Why were women reading this book and supporting it? What did it say about women and our current mental state? Was it really just pornography? I saw facebook posts encouraging people not to watch the movie and call it out for what it was.  I found myself getting vocal and trashing the book.  Yes.  I did.  Then I questioned how a book, a book I had never read, was making me so angry.  This had positive and negative results.
I decided to read it.  I needed know more about it if I was to pass judgment.  My husband says I manipulated myself and I agree.  More on that later.
Anastasia Steele, as a favor to her room mate, interviews  the powerful Christian Grey.  Her roommate is sick, and while the interview is exceptionally important to her, she can't go.   Ana meets the fantastically successful and rich Christian Grey.  Despite Christian's clear interest in her, it takes a while for her to believe he could like her.  She is insecure.  On the first real date Christian proposes a relationship with Ana.  He provides a non- disclosure agreement before he will discuss anything, but once signed he provides her a contract requesting a BDSM relationship.  He would be the dominant and she the submissive for a period of three months.  Ana does not understand what half the language in the contract is referring to.  Overwhelmed, she shyly explains she is a virgin and doesn't get it.  She and Christian rapidly proceed into a sexual  relationship.  He works to convince her to enter into a BDSM relationship while she tries to convince him into having a more traditional relationship of boyfriend/girlfriend.  While they both want one another they want intrinsically different things.  She wants love and he wants sex.
This is not a new story.    It is one of a powerful, damaged, and dangerous man pursuing an innocent and insecure younger woman.  Christian, despite saying he is bad for her, pursues her.   Ana states she is afraid of Christian.  He stalks her.  She doesn't want him to hurt her and is afraid of the punishments listed in the contract.  When he asks her to attempt the behaviors of a submissive role before she dismisses it she agrees to please him.  She wants to understand him but ultimately wants to fix him so he can love her. Due to the NDA she is not able to discuss the sexual requests and relationship with her friends or family.  They comment on how unhappy he makes her and how much she cries since meeting him. Her very first sexual experiences include spanking and whipping with a riding crop and/or belt. There is also a scene in which Ana says no to sex but Christian continues.   While Ana is afraid she also enjoys it.  This does not mean there isn't a problem with behavior.  Children have been found to enjoy sexual activity when they have been molested.  This does not mean that it makes the behavior of the adult more acceptable.  The adult knows they are taking advantage of the child and their innocence.  Likewise, Christian is taking advantage of Ana's innocence.  She is not a child but he is older, clearly more experienced, and guiding her first sexual experiences. BDSM does not encourage people to engage in behaviors they aren't comfortable with and/or ready for.  Christian's behavior of introducing a virgin to BDSM is not reflective of, and has been questioned by, that community.  Both of their behaviors are indicative of domestic abuse.
Erotica is more focused on sex than the relationship while romance is the opposite .   It is graphic and in some ways pornographic because it is not focused on being artistic.  It's purpose is to be titillating with a little bit of story.  There is nothing wrong with that but I would categorize 'Fifty Shades of Grey' as erotica since the relationship is secondary.  It also isn't unique.  It is a recycled story of a young virginal lady being kidnapped by a dangerous pirate.  He has his sordid way with her…but they fall in love.  There are many books like it.
It is poorly written.  It was painful to read.  I couldn't read another, "Oh my," "Holy Crap," "Geez," or reference Christian with the honorific "Christian Grey." At some point I wanted E. L. James to refer to him as 'the king' or 'the captain' so I didn't have to read, "Holy Crap! Christian Grey is in my room!"  "Holy Shit! Christian Grey wants to go on a date with me!"  I get it.  They both think he is better than her.  Also, neither Christian or Ana are all that likable.  Truly, the only attractive thing about Christian was his money and that is not enough.
So, what did I learn from this book.  I spent to much time and energy on it.   The book did present an abusive relationship in a provocative and desirable light.  It ends with her leaving him, which helps, but I understand she returns to him in the next books.  I will not be reading them.  It was hard enough to get through this one.  I listened to the narration by Becca Battoe, which was quite funny at points.  I'm sure she had difficulty reading it without laughing.  It, however, was also boring.  It wasn't extreme enough to be exciting and it wasn't written well enough to be enjoyable.  It is truly grey.  While erotica is not my genre of choice I am sure it is not supposed to put you to sleep.  To get through it I would listen to 'Contact' by Carl Sagan at the points I found myself not paying attention.  Ultimately what I learned was I didn't need to read it.  I knew I didn't want to read it before I ever started it and everything written here has been said by someone else.  Periodically, in my life I question my strong opinions/judgments.  Am I really being fair?  Have I done enough research? When I was 18 all the mothers I knew told me and my friends not to date frat guys.  My first party a frat guy asked me out.  I said I wasn't interested.  We'd been discussing my job and the life skills class I taught to teenagers about stereotyping.  He stated I wasn't being fair and stereotyping him based off his belonging to a fraternity.  Needless to say I did go out with him and he was the frat guy that proved the rule.  I know I was young and gullible.  Funny enough, Ana also engaged in the punishment activities Christian wanted to her to do because she had never experienced them first hand.  I don't think you need to be beaten to know you don't want to be.  Likewise, I don't think I needed to read this book to know it would be something I didn't like.  Sometimes its okay to learn vicariously.  I don't need to get burned to know not to play with fire.  On the other side of the coin it is not nearly as upsetting as I thought it would be.  I allowed myself to be more angry than I needed to be.