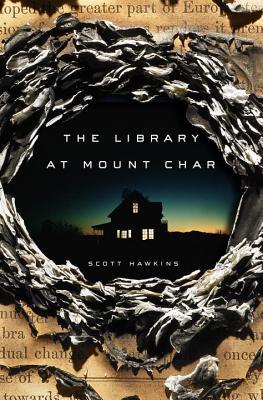 This is unique.  It impressed me with both its concept and writing. The first third of the book I almost put it down.  It is dark but not in the common build to shock and gore.  It handles pain and evil in a dissociative manner.  The emotion is separated almost completely from our cast of dangerous and broken librarians.  That's right.  This is about librarians, maybe not the local city branch librarian, but they are still librarians.  While it is dark it is also a funny book filled with both vengeance and redemption.  I've never found so much hope hidden in such a modern grim book.
Imagine a dark god from the old days, pre-christian mentality, adopting a bunch of kids in the wake of a horrible incident that incinerated their parents in the 1970's.  These kids have glimpses/faint memories of life before Father filled with hotdogs, breakfast cereal, and Saturday morning cartoons. After adoption day everything is different.  They enter The Library and start their new life in the manner of the old people, the Pelapi.  Life starts with a new language and incessant study of their catalogues.  They are not allowed to share their knowledge at the risk of angering Father who believes in disciplinary lessons.  Consequences are tailored to fit the offense.  It's harsh, cruel, and the scars leave you wishing they were physical, but Father can heal those – including death.
Carolyn is the manic pixie dream girl, but only if you recognize that you are there as her plot device, and can accept the wake of violence and destruction she perpetrates carelessly in the execution of her plan.  Don't underestimate Carolyn.  I like her so much.
Carolyn takes us through her childhood to the present and introduces us to her brothers and sisters.  The relationships between Carolyn and her family are very complex and important.  With Father everything is a lesson and it's rarely the one you see on the surface.  In this library they study the art of war, death, medicine, the animal kingdom, language, mathematics, and the list goes on.  They apprentice to fathers friends.  Changes come when Father disappears.  Carolyn and her brothers and sisters are locked out of the Library.  They must find out what happened, and a way back in.  For the time being they're stuck in America trying to blend in…
In a lot of my reviews I can liken the book to another one or to an author.  I can't liken this to anything.
It is definitely science fiction with maybe a splash of fantasy.  It reminded me why I started reading these two genres in the first place.  They provide an escape, but to simplify it to just that is a disservice.  In these genres you get a new world, a new future, or a new science to process the same issues we're forced to actually live with.  It provides a place that doesn't exist to process the messier darker sides of life. 'The Library at Mount Char' does that and does it correctly.  Carolyn and her family are survivors.
I said this is special.  I meant it.
I received this book from Netgalley and Crown Publishing in return for an honest review.