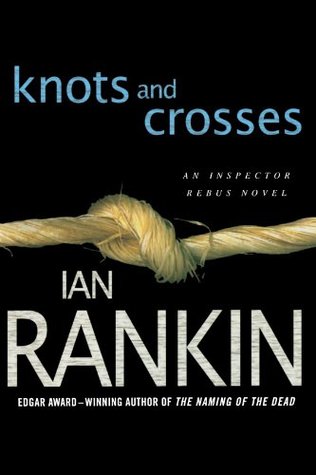 This could have been so much more.  The concept or story is fantastic.  I wanted to like it.  I started out liking it.  Unfortunately, as the story went on I noticed where it should have been amazing and wasn't.  'Knots and Crosses' wasn't bad, but it fell far short of its potential.  This means it will probably be made into a much better movie.  There is a solid mystery set in Edinburgh here.  It has some true twists and interesting characters.  Who doesn't like a main character whose father and brother are legitimate magicians while he's a hardened cop with the dysfunctional family and divorce to prove it.
Inspector Rebus became a cop after a disgraceful exit from the SIS.  Cue the intrigue.  His past only gets released in small pieces until close to the end.  It ties to a truly disturbed serial killer taking young girls.  No one can determine how the murders are connected.  Rebus's boss is an irritant, there are real family issues, and there is a work related love interest.  None of which gets explored well enough.  Everything is connected but the real question is how the killer is connected to Rebus, and why he keeps getting notes delivered by hand to his house taunting him.  They all include either knots or crosses.  That should mean something to him…
This was not executed well.  The writing isn't poor but characters are stereotypes.  You could place them in any police mystery.  Nothing makes them distinctive.  They fall for the same traps every stereotypical character falls for.  It made me angry because the bones of the story are good.  Not everyone can come up with a story worth reading and when cardboard characters clutter it … well, it's a shame.  The other issue is lack of details.  It felt like Rankin was going from plot point to plot point rather than reveling in the content or paying attention to what he was writing in the moment.  No scene felt like something you could immerse yourself in.
I haven't decided to read or not read the next book.  I know a first book can be difficult.  Maybe Rankin hits his stride as the series continues.  I have no issue with pulp.  In fact I enjoy it a lot, but this was hard for me.  Michael Page narrated the audiobook I listened to. Parts worked but it baffled me why a mystery set in Scotland was read by an Englishman.  Michael Page is good.  He differentiates his characters well but his voice is distinctive.  You either like him or you don't but I don't think he was a good match for Rankin's work.   I will probably give the second book a chance based on Rankin's core story but if I do I will read it rather than listen to it.