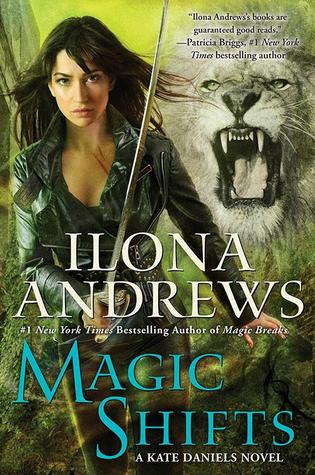 I will reread the Kate Daniels series several times.  Ilona Andrews created a world and characters that make me feel like I'm coming back to my very own alternate home.  It's urban fantasy but it feels real.  They live in Atlanta after 'The Shift.' Technology hit its peak triggering a cataclysmic event bringing magic back to the world.  All the myths, god's, vampires, shapeshifters, and jinn exist.  Not all have their roots in history and legend.   New beliefs spawn unnamed things/ideas into existence too.  It's an interesting time.  Magic doesn't rule constantly.  The world is out of balance and snaps between magic reigning and technology ruling.  Newspapers are back because the internet is unreliable.   You have both cars and horses for transportation but horses are the most sensible.  They work all the time.  If you haven't explored Kate Daniels world this isn't the best place to start.  This is the eighth book in the series with several novellas set between.  'Magic Shifts' can stand on its own but you'd be better off starting with 'Magic Bites,' the first book.  The titles and the book covers give an impression of light romantic urban fantasy.  The genre doesn't have the best reputation for good writing but Ilona Andrews breaks the mold by being well written, having strong world building, and flawed wonderful characters.
Life continues in book eight.  Curran, Kate, and Julie have left The Pack and moved to the suburbs.  They have not, however, settled into domestic bliss.  Kate still has Cutting Edge, her detective agency, and people who can't go to The Order, The PAD, The Pack, or The Mercenary Guild still come to her.   It hasn't been sixty days and already friends from The Pack have found their way to her door.  Eduardo has gone missing, and the Beastlord isn't able to investigate because Clan Heavy declared it a clan matter.  They don't seem to be doing anything, however, and there are reasons Mahon might it opportune for him to disappear.  Eduardo was there for Kate and Curran.  They will have to play politics, from outside the Pack and in general society, to find him.
Kate and Curran have their own problems.  They are running out of money. The Pack can't buy Curran out of his Pack investments, and are pressing him to take their shares of The Mercenary Guild as a compromise.  The Guild, however, is a sinking ship.  When it was left without Solomon Red, their leader, they let go of the administrative and cleaning staff.  No one is securing contracts for work, and the members are trying to plunder the pension fund. …On top of all this Kate's father, the all-powerful harbinger of doom, wants to get to know the family.  Kate's walking a tightrope.
She has magic of ancient and horrifying lineage and is a master with a blade, but Kate doesn't take direction well.  She runs into danger without thinking.  She is blindly loyal despite having learned to abandon all attachments.  Her warped childhood taught her to survive at all cost.  She is stubborn, and doesn't know when to stop speaking.  She isn't perfect, and life rarely goes according to plan.  Unlike several books who have female heroines/hero's that obtained their skills without effort or thought, Kate has worked her while life for them. She is still working, scarred, has trust issues, and is funny.  This is a real woman, and Andrews draws their other characters equally real.  In life you may hate your parents but in many situations you're forced to continue to deal with them.  Ignoring her father doesn't make him go away.  One of my favorite scenes takes place at Applebees for a dysfunctional family dinner.  Life still happens in post shift Atlanta.
Fans won't be disappointed.  This is good.  New magic is explored well with Ifrit Jinn.  There is an appropriate return/use of the Mercenary Guild – a humble nod to Kate's beginnings.  Heavy exploration of responsibility of power, relearning hard lessons, and consequences are strong themes.  It is a book of consequences.  Not all are bad but all have to be acknowledged.  I listened to the audible version of this book narrated by Renee Raudman.  She does a great job especially in the voice and inner dialogue of Kate.  She can do many characters but more than anything her interpretation and expression of emotion in characters, across the series, impresses me.  I equally love to read and listen to this series.