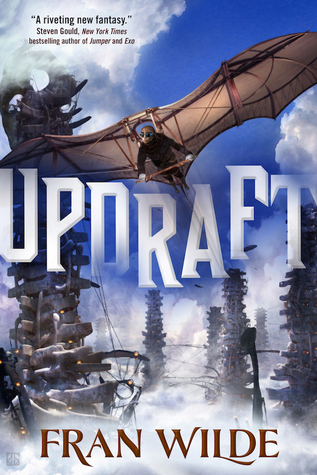 Fran Wilde's debut novel left me wishing for a sequel even though I knew her story was complete with this book.  Wilde's novel is a great stand alone.  She created a world that could be a futuristic dystopia, but I saw it as a fantasy with its own world.  In Wilde's sky towers she has a young woman preparing for her skytest.  If she passes she can become a trader, like her mother, and fly among the towers, bringing good luck, and visiting the spire.   As teenagers will do from time to time, she chose not listen to her mother, she stayed outside to watch her mother's departure and skymouths attacked.  She was locked out, unable to get in, and to everyone's shock was able to shout down the attacking skymouth.  The good luck is she saved her life, the bad luck is it brought her to the attention of the Singers.  The Singers keep Tower law, live in the Spire, and separate from the rest of tower society.  Singers, once identified, learn the secrets of their culture and must break from their families . Wilde's story centers on Kirit's journey once the Singers decide they want her to be one of them.   'Updraft' is good Young Adult fiction.  I applaud its lack of romance.  I enjoy love and romance but it's nice to see young adult fiction centered on a girl whose focus is solely about the situation and task at hand.  Not every story needs a love interest.
Kirit wants to be like her mother, a famous trader and a credit to her tower, but her mistake took her irrevocably off course.  Her skill at flying and her desires became irrelevant.  Singers have the power to change not only her life but the lives of everyone a person cares about.   Many lessons are learned.  Kirit learns that some choices can not be unmade; that your actions effect not only you, and when/what battles to fight and which ones you should leave alone.
Wilde's writing is good.  Her story, while is definitely a coming of age story, has some unique attributes.  Her world is interesting, set in the clouds her towers grow from bone. Her people are a society created from the aftermath of war.  They are a remnant of a people who struggled to create their society heavily reliant on law, tradition, and the Singer's.   Wilde doesn't give into utilizing trends or obvious cliché's  when the plot became tricky.  I applaud Wilde for sticking to her guns and relying on her solid plot to move the story along.  It made me cheer to see youth having bigger things to worry about than a love interest.  I enjoy love stories.  Love is an integral part of who we are as people – how we react to it when we get it and when we lose it. It is a driving force, but I like recognizing teenagers/children are more complex.  Multiple forces and concerns grow people into adults.  It's nice to see others highlighted.
Khristine Hvam narrated the audible version.  She does a great job.  She's well-known and has narrated 'The Chronicles of Elantra' series by Michelle Sagara, 'The Daughter of Smoke and Bone' by Laini Taylor, 'Conversion' by Katherine Howe, and 'Ex-Patriots by Peter Clines amongst several others.  Hvam didn't disappoint with 'Updraft' she handled several characters and the emotion of the story with ease.
This is a strong book with solid world building.  If you are in the mood for a good coming of age story, that does not rely heavily on romance, this is one of the few books that falls in that category with a female protagonist.  I hope Wilde continues writing.  I was surprised this was her debut.  Her writing reminded me of a seasoned author.  I have high hopes for her writing career, and look forward to reading more of her novels in the future.  I would definitely recommend this to teenagers but I am an adult and I enjoyed it.  I expect other adults to enjoy it as well.
I received this from Audible in return for an honest review.  If you would like to go to audible and sample a snippet of Hvam's narration take the link below.