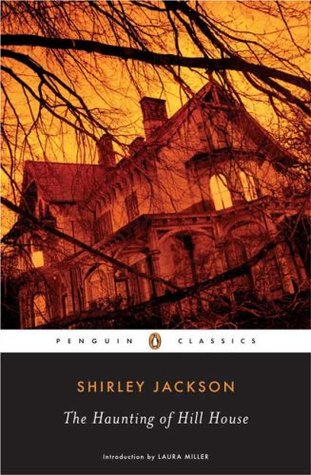 Shirley Jackson's novel is hailed as a distinguished and important work in horror.  'The Haunting of Hill House' has a distinctly gothic feel even if it was published in 1959.  The house is a dark character enveloping people into its warped halls unwilling to let them go.  Dr. Montague, a scholar, who after considerable years searching finds Hill House.  It's history is dark.  Tragic events taken place through the years lead him to believe it could be haunted.  He intends to find out by researching the phenomena correctly, in a controlled experiment, with people who have an inclination toward the paranormal.  He finds his participants by sifting through reports of metaphysical events.  Montague then sends out letters to the candidates he determined qualified and invites them for a summer at Hill House.  The three people who respond come for their own reasons.  They did not come, nor stay, because of an interest in the paranormal.
I picked up this book in anticipation for Fall, October, and Halloween.  It does not have a Halloween theme, is not set in October, or any part of Autumn.  It is, however, a seminal horror classic.  It is the haunted house genre. People read it every Halloween.  Who doesn't want to indulge in a book about a haunted house when you can go to one after reading it?
The strength of this book lies in Jackson's writing.   Her brand of horror is mental manipulation rather than physical danger.  Hill House has a twisted history of playing tricks on its inhabitant's minds.  Those who come to stay tend to die rather than leave.  The few who have been able to leave develop an unhealthy obsession to go back.  Jackson includes some good twists and turns.  That said, it's one thing to decide to spend a weekend exploring a hostile paranormal phenomena, but what could possibly possess anyone to stay a summer in a house believed to be haunted?
I listened to the narration by Bernadette Dunn.  She has a beautiful voice but it didn't inspire the fear Jackson made her characters experience.  I do wonder if I read it instead, if 'The Haunting of Hill House' might have had more of an impact on me.  Dunn's interpretation of climactic moments didn't sound particularly different from the everyday events.
'The Haunting of Hill House' was horrifying to readers when it came out.  It was original.  It, however, is not now if you have read other haunted house tales with a paranormal investigation.  I recognize the books I've read were Jackson's descendants.  They, unfortunately, prepared me for the climactic points of this book.   It will not have the effect on current readers it had on those in the sixties.  This does not mean you shouldn't read it, but you should know its history, so you can respect it even if you are not frightened by it.