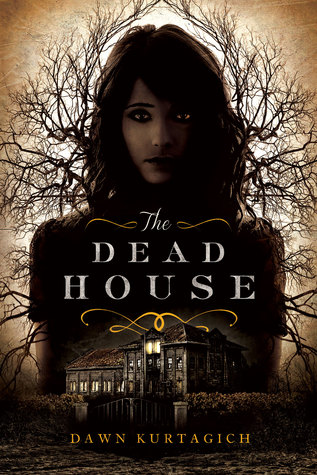 ~HALLOWEEN APPROVED~
(This book, or part of it, is set on Halloween)
Kurgatich's Kaitlyn and Carly Johnson are either two sisters, twin souls, living in the same body, or suffering from Dissociative Identity Disorder.  This disturbed young woman has been hospitalized since the death of her parents, but in this book she is believed to make enough progress for her to be released and allowed to go to Elmbridge Boarding School, the feeder from the hospital.  Her staying is dependent on her continued therapy, her eating habits, and whether Kaitlyn acts up.  Include fictional Scottish witchcraft named Mala and Kurgatich has created a situation that she develops into some exquisite horror.  The story is told in an epistolary style through investigation notes, Carly's and Kaitlyn's diary, their friend Naida's camera footage, and Lansings psychiatric case notes. The story does not disappoint in written or audible formats.  The book is artistic in its layout and images, but I have to say the narration by Charlotte Parry and Christian Coulson is brilliant.  Charlotte Parry in particular makes you feel the terror Kurgatich puts her characters through.
Carly Johnson experiences life only in the light of day.  At night her sister takes over her body.  They don't speak but they write each other notes.  They don't know what has happened to the body they share unless they tell one another.  Imagine waking up with bruises when you don't know how they appeared or speaking to people who expect you to remember conversations you didn't technically have.  It's a complicated life.  It's worse when someone, a person who is credited with your care, determines what you can or can not do with your life.  It's terrifying when you entrust them to help you discern what is real and they are not competent.  Neither Carly or Kaitlyn remember what happened to their parents.  Dr. Lansing keeps this from them believing that once Carly is able to integrate or absorb her Kaitlyn personality that she will remember on her own.  That, the prescriptions and dosages, and belief that Kaitlyn can be absorbed at all are questionable.  Dr. Lansing is reckless and presumptuous, but that does not mean that Carly/Kaitlyn wasn't suffering from mental illness.  In this story Kaitlyn and Carly are at the center of death and fire at the school  The Carly Johnson Incident becomes infamous inspiring paranormal investigators to visit the school.  Disappearances continue to mount in number even though the school was closed and abandoned.  Once it was listed as one of England's most haunted destinations people could not stop people from flocking to it.
Kurgatich created a solid story.  The Mala witchcraft was nice touch.  It's creation is solid enough I thought it might be authentic.  Kurgatich, however, is very careful to make sure we understand it is fabricated, as is the island it is supposed to originate from.  It has some pieces of voodoo and Wicca.  Joining a psychiatric patient suffering from PTSD with a friend who was raised in ancient/pagan beliefs and rituals could have drastic effects on how the patient saw themselves  There are many reasons a person can exhibit behavior.  One persons mental illness is another's possession.  The treatment plan of a mental health professional and  a 'Mala' practitioner are certainly different.  What actually is effecting Carly/Kaitlyn is something you will have to glean for yourself.
The narration of this book is masterful.  Charlotte Parry does the bulk of the narration with the diary entries, Lansing's case notes, and Naida's video.  He performance of Carly/Kaitlyn's emotional nuance is believable and in places heartbreaking, but it is not limited to those characters.  She handles her other characters with as much care.  Christian Coulson performance it's strong too, but the investigation notes don't require quite the same delicacy as the diary entries.  The music in the interludes is fitting.  It helps create an atmosphere of fear.
I encourage you to listen to this book.  It is good.  If you don't like horror this may not be for you, but while it holds a paranormal question at the end of the day I would categorize this as a psychological thriller.  It also has a fabulous scene set on Halloween at one of Naida's relatives house.  It is the start of the unraveling…  If you are looking for a Halloween horror read I encourage you to pick this up.