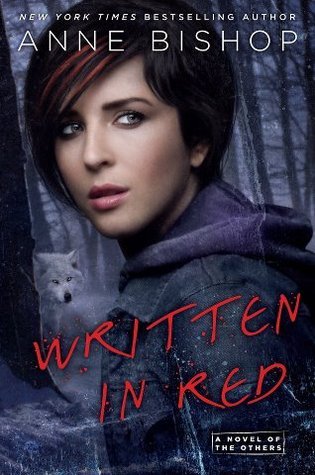 cs759 escaped.  Her flight lands her at Lakeside Courtyard inside Other territory.  It's the safest place she might find.  The Courtyard is not subject to human law and may be able to keep her away from The Controller's "benevolent ownership."  She entered Howling Good Reads in the middle of a snow storm – hypothermic.  She is fed out of  basic kindness.  Knowing she needs to stay, she asks for a job.  The Others decision to make her Human Liaison is to avoid giving it to the distrusted human campaigning for it. She is the best option because she is the only other option. cs759 names herself Meg Corbyn.  Bishop's story about her is addictive.  I do think it might be crack.  I read through the first three books, one after another, without break.  I'd read the fourth but it's not available yet.
Bishop's world is separated into land governed by The Others and Human's, but human's are not generally in control.  They are clever meat. Their value lies in what they create – their technology and devices of use.  Other's are Shifters, Elementals, and Sanguinatti connected to the majority of land. Human land, that is theirs solely, lies  where their species orginated, but they have outgrown it.  They bleed over into Other territory.  This happen at Other's allowance.  It should never be forgotten that it is not theirs.  They are renters, interlopers, tolerated only as long as they are useful.
Meg changes the dynamics in Lakeside.  The relationships she builds with Elementals, Shifters, and the Sanguinatti is something new.  It changes the way they see humans – that they can be more than useful or edible. This is something to protect, and a small group of humans on the police force realize this.  They see her as their best chance at survival.   A portion of humans resent Others, those who don't live close enough to them to respect the danger the can invoke, and eventually/inevitably someone will make a mistake.   They hope Meg's influence can protect them from being decimated.  Unfortunately, the human's seeking Meg could easily be the ones to endanger them all.
Meg is Cassandra Sangue, a human seer.  They speak prophecy when they bleed.  Meg and her like have been committed to organizations, originally for their protection, becoming 'benevolent ownership. '  Cutting creates a euphoria that develops into an addiction, causing themselves harm, requiring others to intercede.   Benevolent care transformed into exploitation over time.  The cut on their skin gives the observer to prophecy invaluable knowledge – an expensive commodity.  Meg's escape brings powerful desire for her capture.   Many seek her for personal gain.
I listened to a portion of the audible book and found I preferred to read the book.  I didn't find the maturity I was looking for in the voice of Alexandra Harris's narration.  Meg is a young woman, and naive in many ways.  I understand why Harris's was chosen and why she interpreted Meg the way she did.
Bishop's Thasia isn't a new piece of world building.  The Others aren't unique.  She populates her book with Shifters, Vampires, and Elemental's.  Recognizing this, I questioned why I am so attached to the book. Why it feels so comfortable?  While it's not original, the world is a solid combination of familiar ideas and it also has developed/complete characters.   Her world feels natural and the threats realistic.  It's compelling, well-written, and built with smart/complex characters.
I recommend this.  It is addictive – read at your own risk.