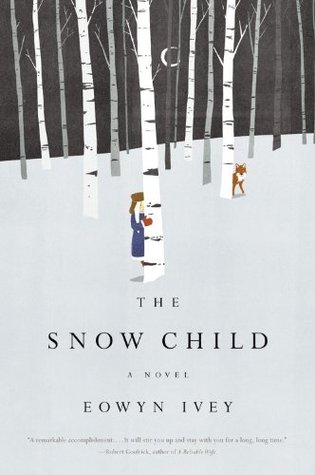 This is a beautifully written book.  Take a broken married couple who wanted nothing more in their life than to have a houseful of children and place them in Alaska during the 1920's. Mabel and Jack moved to the wilds, away from their families, to a homestead so remote the closest town doesn't have a doctor.   This is their chance to start over, where it is just the two of them, away from family that judged their failure to have children.  Their life in Alaska shows two shadows of people growing outside of themselves to trust each other again, befriend a new family of chosen friends, and raise a young mysterious and wild girl of the woods.  'The Snow Child' is linked to the Russian fairy tale, 'Snegurochka.'  The beauty of Ivey's story is that her characters, or at least Mabel, is aware of the fairy tale.  What would you do if your deepest dreams came true in the likeness of a story you were told when you were a child?  Would you believe it?  The more I think about this book the more I like it.
At the beginning, Mabel and Jack are estranged.  They purposefully have chosen to not interact with other settlers.  They are protective of their sadness.  Their move was made to get away from other people and to be able to create a homestead and life that is theirs.   As they grow through the book their peace of mind and happiness comes from their closest neighbors befriending them forcefully.  Mabel's polite cultured upbringing is no match for Esther's loving refusal of any form of convention.  This stubbornness is what breaks Jack's and Mabel's defenses to be able to care, love, laugh, and learn of their own strength.  This is one piece of the book.  The second is a mysterious little girl.
One evening, in the dead of the long Alaskan winter, a young girl appears at their homestead.  They don't see her, but there is evidence of her.  Mabel and Jack built a small and beautiful snow child during the storm.  It was an image of the child they yearned for.  They dressed it in scarf and mittens knowing that there was no person in miles to claim the items during the night.  In the morning the articles are gone.  Jack follows tracks away from the statue but can not find the items.  Both he and Mabel think they see signs of a little girl but for a long time they think it could be the tricks of winter and cabin fever playing with their minds.  Eventually, the child reveals herself to them.  The child, supposedly, is the daughter of a trapper who has died.  She refuses to live with them and will only visit them if they do not restrict her movements or force her to stay.  She takes care of herself.  No one has seen this child other than Mabel and Jack.  Their friends are kind but do not believe she exists.   Mabel remember the tale of  "the snow child" from a Russian story book her father read her and starts to believe the little girl is  'Snegurochka.' It fits.  Faina, the girl, disappears during the summer.  She only sees Mabel and Jack in the winter – disappearing when the snow melts.  Mabel has her sister send her the book.  She wants to know more about the tale.  What does it mean and what happened to Faina – the girl she loves as her own daughter?  If she has enough faith will she come back with the snow?
Ivey is a skilled writer.  She evokes the solitude and wild nature of the early Alaskan frontier.  The beauty of the landscape combined with her strong complex characters alone make the book worth reading.  Add in the magical realism of the fairy tale and you get something very special.   To be clear, the magical realism is a question.  It is not clear if Faina is 'Snegurochka.'  Much of the story is dedicated to Jack and Mabel determining if she is in fact real or a figment of their imagination brought on by the duress of the Alaskan winter.  The other question is if she is akin to a feral child or if she is something more magical in nature.  Ivey explores the definition of magic, family, strength, and trust.  This book snuck up on me.  I didn't expect to love it as I do.  I continue to think about it long after I finished it.  It is not action oriented.  Do not pick this up if you are in the mood for that.  It's strength lies in being a contemplative book of ideas and character study.
If you enjoy audible books Debra Monk does a beautiful narration.  I highly recommend it.  Her performance added to the enjoyment of the experience.  This book is one I prefer to listen to than read.