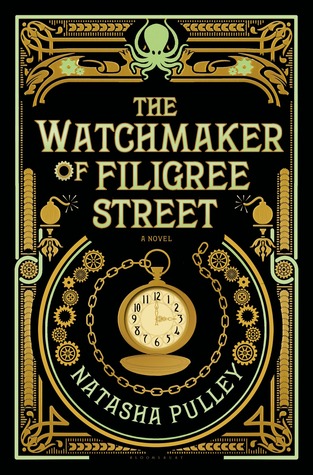 This book is hard for me to categorize.  A review I read called it Steampunk but this 1880's version of London doesn't have to fall in an alternate timeline, and while clockwork gears and machinery play an important role, it is not fantastical.  Natasha Pulley's novel plays with the line between fantasy and realism/ science and clairvoyance.  It is beautiful.  Thaniel shortened from Nathaniel, to distinguish himself from his father Nat, is simplified to match his unaffected straightforward character.  He is the center of this novel.  Keita Mori, Grace, and even Dolly circle arround the choices of this man.
Thaniel is a telegraphist. His profession isn't world-changing and doesn't hold much growth, but it allows him to live a sparse existence while helping him provide for his sister and her sons.  He doesn't mind it.  His days blend until he goes home to his barely lived in room to find it burglarized.  I need to rephrase that, someone broke into his apartment.  Instead of taking anything they left him a gift in the form of a beautiful watch.  This is curious behavior.  It is something he could never afford.
When threats of a bomb meet his office he is told he must draw up a will.  This is laughable Thaniel doesn't own anything – except the watch. His sister would never sell it, out of sentimentality, so he tries to pawn it.  The brokers, however, won't take the piece of clockwork ridiculously claiming it will disappear.  Thaniel keeps it and when his office is bombed the watch chimes its alarm just in time to save his life …and make him look like a suspect.  Out of fear, anger, and no better idea, Thaniel drags himself bleeding to acclaimed watchmaker Keita Mori's shop.
Thaniel, at the request of his boss, goes undercover.  He believes the watch and Mori are linked to the bomb.  Thaniel isn't convinced.  The night he met Mori, this kind and unassuming man, offered him tea, a clean shirt, and a room to sleep in so he wouldn't die trying to walk home injured.  Keita's shop is a mystery filled with clockwork birds, watches, and a strange clockwork octopus that likes to steal ties and socks.  It appears to have a life of its own, but Mori assures that he created it as a pet.  Due to how the gears and magnets are programmed it only appears to have choice in its seemingly random actions.  Mori's friend and pet plays a joyful and strange role in our tale.
Pulley's comfortable and charming style of writing draws characters that feel real and carry the style of the 1900's.  They play their roles in the politics boiling in London – including the early meetings for suffrage, the socialist movement, and the tentative international relations specific to Japan and  Brittain.  The mystery of who Keita Mori circulates through the story.  Mori has an uncanny ability to know what one will say and do.  Is it clairvoyance, trickery, or something more? Thaniel's chance meeting with Grace, pulls her into the mystery. She studied physics at Oxford but did not receive a fellowship. That lack of fortune has her family pressuring her find a good man to take care of her.  She has a house left to her by an Aunt, but she only receives it if she is wed.  The women in her family historically are weak and unintelligent, so her own intelligence is seen as eccentricity and madness rather than ability.  The possibility to study this scientific phenomenon draws her in.
Mori's unconventional and unexplainable way of living scares many, including Grace.  Her desire to understand the ether, the unknowable, makes her simultaneously drawn to and afraid of Mori. The man can manipulate events? These two characters, and the way they see life clash and pull Thaniel in alternate directions. Pulley's novel boils down human actions questioning our ability to choose.   It takes predestination out of religion.  Can we control our actions, are our ideas and lives random, or are we really just ingenious clockwork? Humans may not be so very different from Katsu – the clockwork octopus.  Pulley's placement of this story in the 1900's is perfect, set at a time where the old ways that allow for magic and 'the other' fall to science and mechanical industrialization.
I listened to the narration by Thomas Judd.  He is the perfect voice to read Pulley's work.  I am sure I would have enjoyed reading 'The Watchmaker of Filigree Street' but Judd's voice captured every character.  He handled the assortment of accents with ease.  He was faultless and enhanced the experience of the book.  I would encourage people to listen to it first.  His reading made me feel like I was curling up in a blanket with a cup of tea in front of a fireplace.  Perfect for the books atmosphere which is predominantly drizzling and cold.
I loved this novel.  The end is quick – almost abrupt.  The slow thoughtful novel moves at a frantic confusing pace towards the end.  This is purposeful, and necessary, but it had me rereading/relistening to sections.  I wasn't sure I followed Pulley's frenetic path correctly.  This may take away from the reading enjoyment for some, but I encourage almost anyone to read it/listen to it.  If you like China Mieville and 1900's history mixed with an ever so small amount of science fiction/fantasy this will appeal to you.  It is not as complex as Mieville and does not fit with the New Weird but it has some similarities.  Also, if you enjoyed The Golem and the Jini you will likely enjoy this.  Pulley created something special and something I will reread.  It became a friend.
I received 'The Watchmaker of Filigree Street' from Audible in return for an honest review.  If you would like to sample the narration click on the link below.