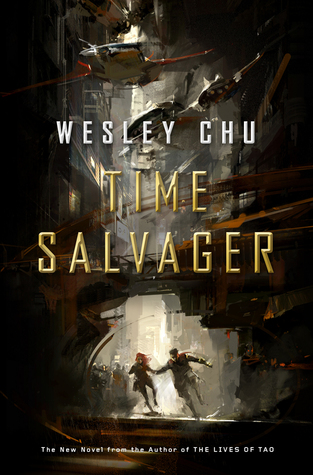 A couple of things up front.  I love Wesley Chu's writing and adore his Tao Series.  I was more than a little excited to get this.  I preordered the audio version assuming Mikael Naramore was narrating it as he did the Tao Series.   I didn't check in my bouncing anticipation.  – So, this is where I say the experience was not what I expected.  I did like it – once I got over the fact it was narrated by Kevin T. Collins.  He's not bad, but he was not what I was anticipating.  That, combined with the fact I listened to the first two chapters at 1.25 speed by accident, didn't help the situation.  The first two chapters did not impress me.  I had new characters.  I grew to love Grace, The Mother of Time, but I was disgusted with her decadent and crass introduction.  I need to reiterate, I did grow to like 'Time Salvager', but I stopped listening after the first three chapters.  I had already read one book recently where I had pushed on when I was not in the mood for it.  It did not help that situation and only led to me being unhappy and grumpy about it.  I wasn't going to make the same mistake with this book.  I waited.
So, it was with much lower expectations, I started to listen to it a couple of weeks later – at the correct speed and no unfair expectations for Collins or Chu.  It was much better.  Time Salvager is basically a Space Opera about a time-traveling, drunk, bounty hunter named James Griffin Mars.  He's not very old but he's precocious in becoming a weathered old grouch.  He's also not really a bounty hunter.  He's a respectable chronman who travels to the past, with very specific and important rules, to steal power generators and technology moments before it's to be destroyed.  – All in the pursuit to save humanity.  It's a losing battle.  The future is not bright and the worst thing about his job is coming back to his present time.  Most Chronmen don't last very long.  They either die during a job or fly off in a blazing suicide.  Very few can buy out of their contracts and many try to hide in the past.  That creates time ripples, however, so the Auditors must come back for you, kill you, and anything and everything you screwed up to fix the timeline.  It's not a happy situation.
When James and his best friend (only friend) and handler gets news of a job that can shave years off their contracts they jump – as much as a man like James jumps at anything.  It's shady, for the Valta Corporation, and his Handler has to keep him sober enough to get through the psychological review for this certain death job.  This job destroys everything in James life.  He will break the time laws he holds sacred, become a traitor to Chronocom, lose his mind, and maybe find a chance for redemption.
Space Opera is not my first love, but I adore time-travel and science fiction.  I say this to give you some context to my opinion.  Chu created a dystopia.  It is dark, but Chu is Chu, so he still laced in humor and characters I grew to love despite their flaws.  What isn't obvious is the book is about relationships, trust, loyalty, and people allowing themselves to feel emotion – any emotion.  When the future is so dark you stay drunk on really bad whiskey so you can get to the past to drink amazing vintage bottom shelf whiskey this is a challenge.
Chu wrote a good story.  I enjoyed it but he indulged in creating his own futuristic lingo and curses.  I understand why people do it.  I agree that people in the future will say different things than we do and to use current slang will date it, but I hate it.  I hate when anybody does it.  It's not just Chu.  The rest of his writing is fine.  He uses more profanity, both modern and made up, compared his other books but it was only noticeable in the first couple of chapters.  It is something to be aware of, however, if it bothers you.
I will definitely be reading the second book that is planned.  The story has good bones.   I will also listen to it.  I was not initially impressed with Collins narration but it grew on me.  He established a rhythm and distinguished Chu's characters.  In the end he won me over.